Advanced Analytics Mastery Course
• Beginner to Expert level
Learn Google Analytics from our experts and be trained about the importance of how you can implement Google Analytics in your business to track and report website traffic. The Google Analytics Mastery Course will help to track and measure Return On Investment of marketing campaigns resulting in more leads, high sales conversion and increased brand awareness.
Benefits of Google Analytics :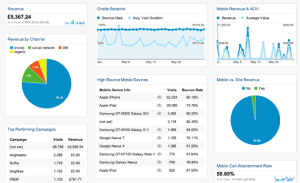 Analysing the Data is the Key!
Whether you are new to Digital Marketing as a student, or running your own business or a marketing professional who want to judge campaigns, measure and track the performance of your website or a product, analyzing your data with our Google Analytics course will help you turn your customers' insights into action for your business, drive sales and ultimately outperform the competition. Once you have visibility into the customer journey, you can determine your best channel and investment mix. You can prove your Digital Marketing strategies are earning revenue for your business.
At the completion of the course we offer our students a certification in Google Analytics. With the Analytics hands-on learning, you will be prepared with how and where to begin with this tool. You are now self-assured to compete with any experienced or expert analyst in this field of Analytics, specialization in strategizing/analyzing any small/medium/big Digital Marketing projects.
Google Analytics for Beginners
Advanced Google Analytics
After Learning Google Analytics at our Institute, you will be capable to: